So! Otile Brown called up Ethic Entertainment and the two have given us a very unexpected collabo!
Here are our thoughts…
The Video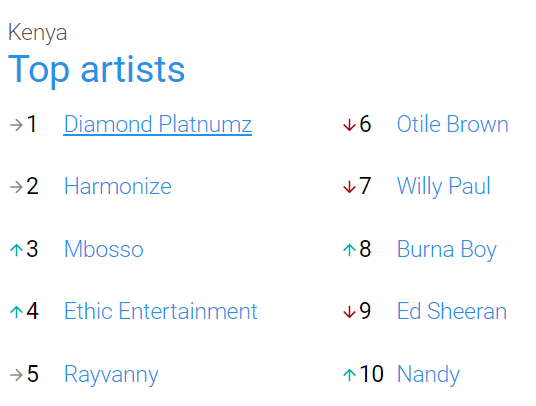 The screenshot is from YouTube – the largest video sharing platform in the world. It is from their weekly music charts and insights which you can find here. This specific chart refers to Kenya's 'Top Artists' which YouTube describes as a chart that shows "Artists who were played the most last week." As you can see there are only 3 Kenyans on the list, but that's a story for another day. Let us focus on the fact that two of the top three Kenyan musicians gave us not only a track but a video as well! At the time of publication, it was trending number two on the trending list.
To be honest we think it because of how big the names involved are. The video itself is very ordinary. It is exactly what you would expect from Otile Brown – he has shown that he has a particular liking for rooftops and water bodies. And exactly what you would expect from Ethic – girls twerking on them as they perform. Ethic pleasantly surprised us when they gave us Figa in terms of the quality of the visuals and as much as this video meets the standard we were hoping that because they were teaming up with Otile we would see something, different.
But then again, what do we know? Their (both Otile and Ethic) seem to like it as it on course to hit one million views within a week.
The Beat
When we first found out that Magix Enga was behind the beat, we were a bit surprised. It is different from what he has been producing recently and in a good way! He manages to create something that caters to both Otile's and Ethic's very different sounds without having it feel forced. He did a good job and did the collaboration justice.
The Lyrics
The song is about the musicians' love for women and partying which is great! Who doesn't love a pretty woman and a good time? Otile does what he does best with the catchy hook and Swat and Seska do what they do best with their murder of the beat! The lyrics are easy to sing along to and elevate the already powerful beat.
What's Missing? 
If you don't know… we are here to help you! It is the missing members of Ethic! As much as they appear in the video, it would have been nice to hear their voices on the track also. But they were definitely well represented by Seska and Swat.
Did they leave us wanting more in a good way or in a bad way? The verdict is still out on that one! Check out the video and decide for yourself!