These days when an artist releases a music video or even an audio or lyric track via YouTube they feel that it is not a success unless the said video finds itself on the YouTube Trending list. So desperate are they for this visibility that some have gone to the lengths of buying views believing that that is all it takes. Which just highlights the importance and value that appearing on this exclusive list brings to an artist. YouTube identified this value and went ahead to launch a series of music specific charts which give a clear picture of which songs and artists are truly doing well without the clutter from other trending videos such as Betty Kyallo's interviews or segments from The Churchill show.
Before we get too deep into technical terms, let us examine what it exactly it means to "trend." According to YouTube the trending feed or list "is a single list of what videos are new and popular on YouTube in a viewer's country. Some trends are predictable, like a new song from a popular artist while others are completely surprising. Therefore, we aim to combine popularity with novelty. The list considers view count (especially the rate of growth in views) where views are coming from, and many other signals. Therefore, the video with the highest daily view count may not necessarily be #1 on Trending."
To give local examples to some of the scenario's mentioned above when they are referring to popular artists – they mean artists on the caliber of Willy Paul, Nyashinski or Akothee who almost always trend. When they are referring to newer artists or novelty, they mean artists such as Ethic or Zzero Sufuri who have taken the industry by storm. Once you examine the metrics that YouTube uses to determine who will be on the trending list it easy to tell which views are bought and which are genuine. For instance, when Tanasha Donna released her debut track "radio" featuring Barak Jacuzzi on the same day and roughly the same time that Vivian released "Cheza Chini" featuring Naiboi and Savora from Sauti, 8 hours later even though Vivan had less views by almost half she was on the list while Tanasha wasn't. It is likely that this was a result of the fact at that point majority of Tanasha's views were coming from Tanzania (if you need to ask why you shouldn't be reading this J). But this is just one example.
Below are some of the charts and insights regarding the music on the week that this was published by YouTube.
Currently Trending

Top Songs

Top Music Videos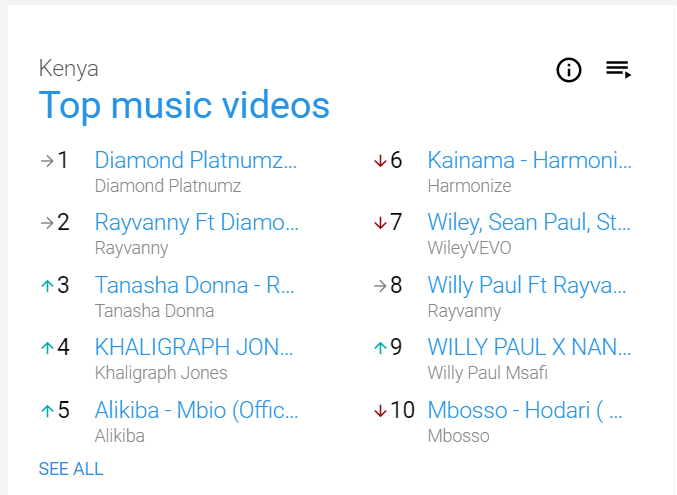 Top Artists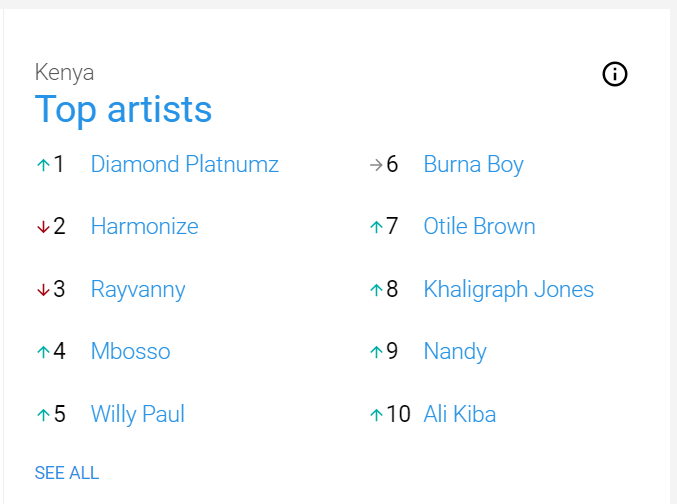 The list changes literally all the time and you can view it for yourself here: https://charts.youtube.com/ just make sure you select Kenya as the country.
While if you go to the generic YouTube music trending list, it paints a very different picture of who's hot and who's not.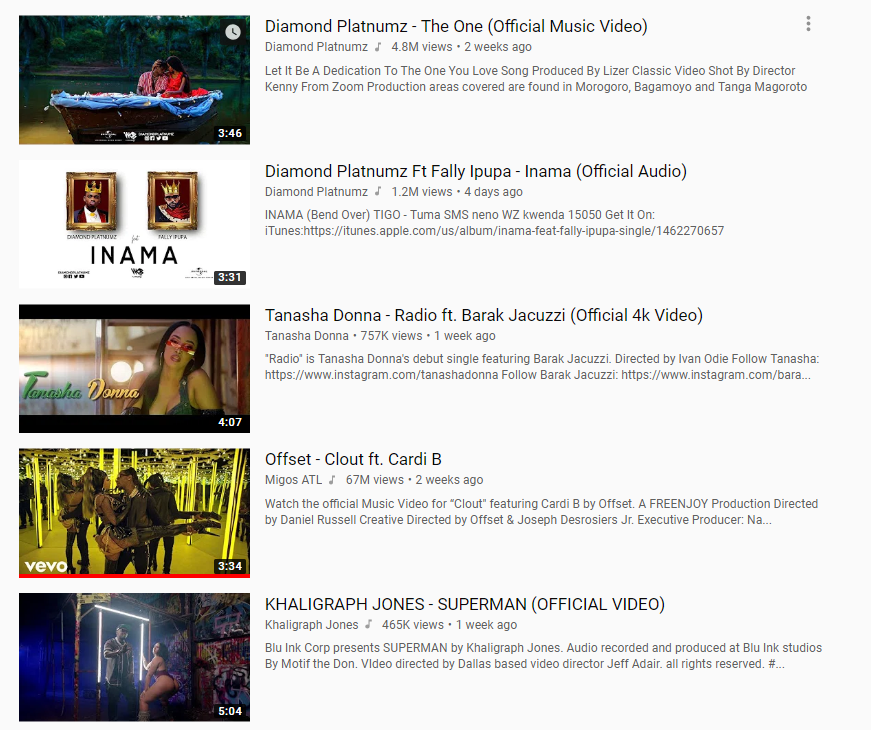 Watu wa #PlayKEMusic mko?
Ultimately, we are not saying that not trending is important. We are just saying that it is important to evaluate all the possible factors that go into compiling the trending list!